What have I been up to lately?
So, what's new? Well, a lot has changed since I last did an update on the site. I have been so incredibly busy. Let's see. As you know from reading on down the page, I am divorced. I filed in November of last year. I started dating a man named Tony as well in November. Well, as of June 27th we, Tony and I, have moved into a house that we rent and share with his 10 year old son, Kyle. I am enjoying every minute I can spend with the two of them. My love for Tony grows with each passing day.
I have rebuilt bridges that were burned in the past as well. I have been in contact with an old friend who's ties were broken out of childish stupidity in the past. Herman Bodkin, better known as Mr. Fairwrench, and President of the VSVWA has again become a good friend. We realized the error of our ways and decided it was a friendship worth saving. So, again we are partnering up to try to revive the VSVWA. We all learned some valuable lessons from the past. It is good when you can learn from your mistakes and capitalize on them and start over. So, together with other VW folks, we hope to bring back a good thing and make it even better.
Life is pretty good right now, I am enjoying my job at Southwest Airlines as well as my home life. I have lost a lot of weight and have become truly happy. Whatever the future holds for me I am ready for. As for this club, the THotV, I vow to be more involved now that my personal life is looking up. As well, I vow to put everything I can into the VSVWA comeback. Look here to see updates as to both.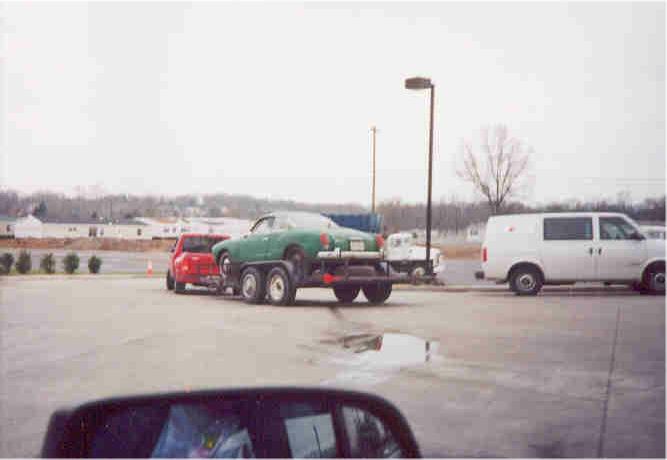 This is me hauling a friend's Ghia.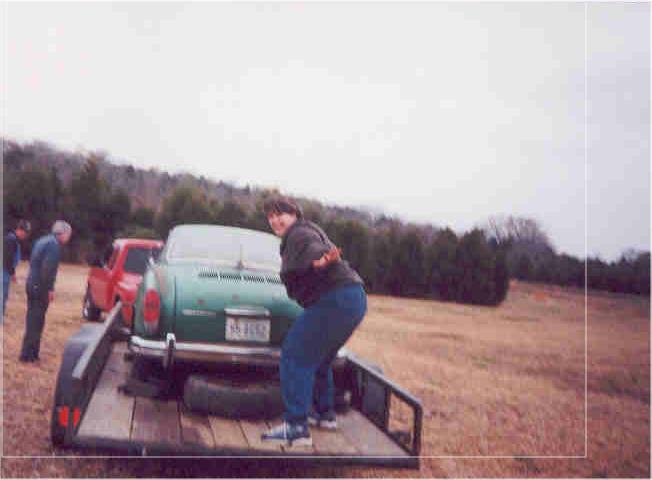 Here I am, showing off my Trailer Surfing Skills. (the two men standing there are Mr. George, the man who bought the ghia, and Joe, the one who sold it.)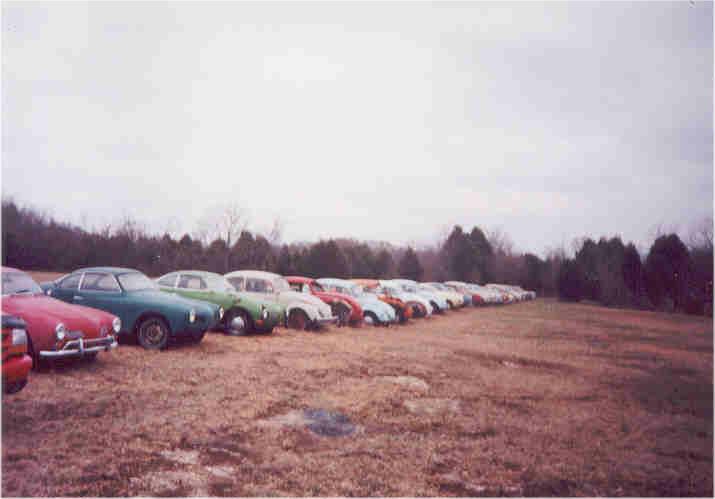 This is Mr. George's collection...There will be more to come on this very interesting VW Mechanic!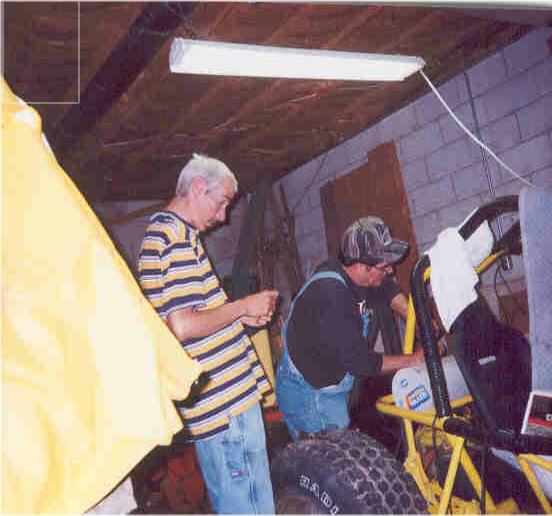 Speaking of VW Mechanics, here is Joe and my now Ex-husband Jimmy trying hard to look like they know what they are doing! Joe is the one in the overalls..:)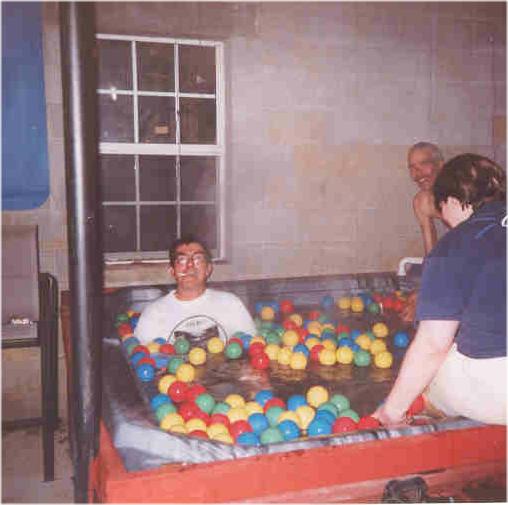 And finally, here is the famous before picture. This is Joe (white T-shirt), Myself (blue T-shirt) and my now ex-husband Jimmy in the background. Why do I call this the famous "Before" Picture? Well, shortly there after, Joe, an Italian who says himself he could not speak if his hands were tied, felt the urge to perform swan dives into the hot tub. We all sat in amazement that he would fall face first into the tub to emphasize his point, until he had a bit of trouble coming back up. We are planning an installation of a high dive platform for his next visit!
Well, one person, who always seems to find her place behind the camera, was present throughout these events. Her name is Deb, she still claims Joe as her other half. Although, probably not the better..:) Love you guys!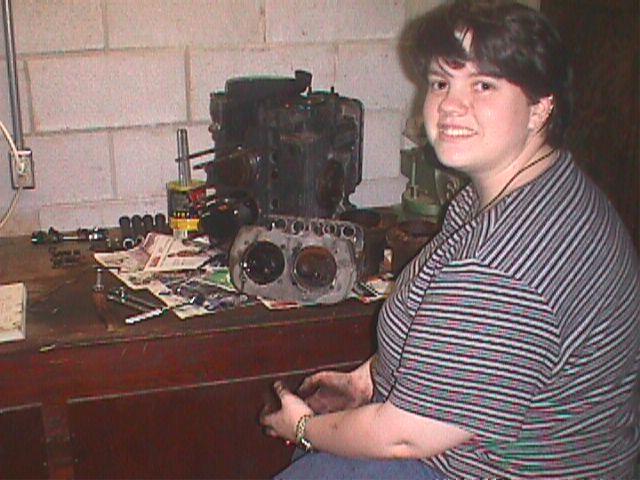 Here I am just getting started tearing apart the engine of the 1969 VW Beetle Chop Top. This is the first engine I have torn apart. Amazing how simplified everything is. I am learning more and more each day, of course I do have a little help, just out of the screen is the VW's for Dummies book..:) I have always been interested in taking things apart. I have mastered computers as far as building them, so now it's onto engines. I'll keep you posted, as to how it goes. I will probably add a page to track it's progress.